Learn
About Us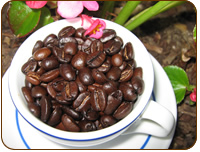 Espresso Emporium is located in the historic town of Martinez, California—a quaint community nestled in the rolling hills of Northern California roughly 30 miles outside "the city by the bay," San Francisco. A slice of small town America buried deep within the eclectic Bay Area, the city of Martinez only spans 13.4 square miles and plays home to roughly 36,000 people. Known for its abundance of nature, the city of Martinez is surrounded largely by water and regional open space preserves. Pride for our city runs deep and we're proud to not only be the birthplace of the martini, but the Yankee's famous baseball player, Joe DiMaggio. Another famous "Martisian" was John Muir, the world famous naturalist.
Conceived through our "love for the bean" in this small slice of rural tranquility we call home, we strive to capture our passion in every roast of Espresso Emporium coffee. Along with our love for our environment and the inspiration it brings us, we have a sincere appreciation for our farmers found in the best coffee regions of the world. Our partnership with them allows us to receive the raw goods they've grown, picked and processed in an environmentally sustainable manner. It's our belief that excellent coffee shouldn't come at an expense to the environment. In fact, a warm cup of coffee can be as good for the planet as it is for the soul.
Our Mission
As a boutique Roastery our goal is to serve you the very best in small batch coffee roasting. Your order will not be sitting in a bag waiting to be sold. Espresso Emporium is single mindedly driven to provide competitive prices, value and personal attention through offering roast-to-order coffee.